I've set up a subdomain working thru http at VPS on Centos 7. Yet, as to https it returns the main domain content.
Given
SSL certificate that we've bought for domain does not fit for subdomain.
There is the redirect SSL subdomain SSL subdomain solution.
How to set up a certificate for subdomain ?
A step by step guide of the ACME SSL certification using dehydrated.
Added LetsEncrypt certificate using VestaCP
First you need to update Vesta CP:
# sudo v-update-sys-vesta-all
In case of
v-update-sys-vesta-all command not found
then you do the following:
# source ~/.bash_profile
# export VESTA=/usr/local/vesta/
Now you visit VestaCP and in the WEB tab select a domain to edit.
Scroll down to the SSL support, tick it up. Tick up the Let's Encrypt checkbox as well and wait to up to 5 minutes while SSL certificate to be generated. The result should be evident soon: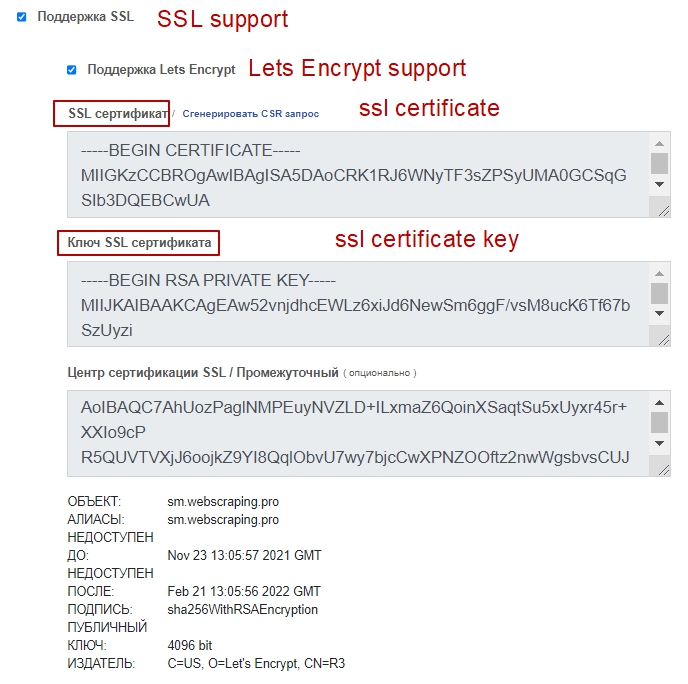 After the successful SSL certificate load from the Lets Encrypt the following files should be present in the /home/admin/conf/web directory:
ssl.sm.webscraping.pro.ca
ssl.sm.webscraping.pro.crt
ssl.sm.webscraping.pro.key
ssl.sm.webscraping.pro.pem