As we reviewed web scraping software and services, we stumbled upon an interesting cloud scraping service called Grepsr. This service is dedicated to extracting consumer requested data by its own specialists with the possibility that the user may control scrape scheduling and some other data extraction steps.
Grepsr focuses on a project for scrape. You don't need to worry about choosing an extractor, the environment to run it or DB for data storage; everything is done for you. Just give a precise description of data you need and your request will be processed. The sample request I composed took them just over 30 min. to complete the data extraction. The pricing hinges on the down payment for a project and the number of scheduled projects per month regardless of the data amount you scrape. One shortage of the UI is when scaling the page up, fonts remain the same size, irritating the eyes.

Make a Sample Project
You don't need to log in to Grepsr before you describe your target data for a sample project. To point at the data you might want, use the visual tools at Grepsr, the mark up box or just enter notes. The online specialist is prompt to chat with you. As you describe the extraction details and leave your contact info, a confirmation letter will be sent to you and your project will be indicated as one in process. In the following picture, I marked the needed info using the inbuilt box with the comment box appearing under the table. I was able to compose the request quickly.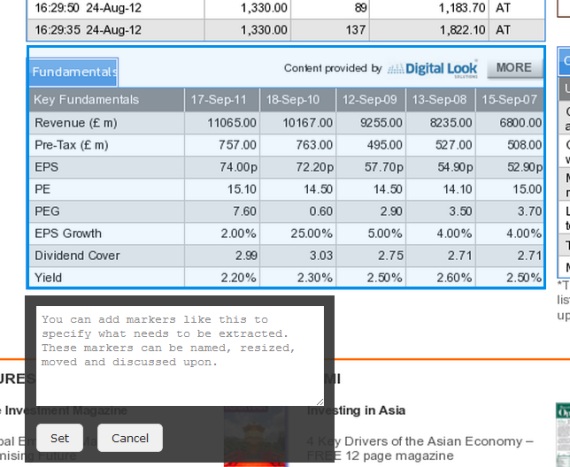 Moreover, you may specify any search filters or login info for target page(s) if needed.
Data Synchronization and Storage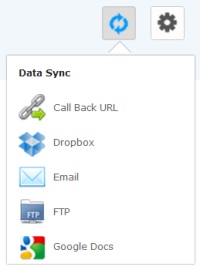 For each project, you choose the way to get the data synchronized, depending on your needed output format. You may request CSV, PDF or HTML files delivered to your FTP, Dropbox or Google Docs account. Also, you may request notification about your extracted data through alerts via Email or HTTP POST.
There is currently no limit for account data storage amount. However, if the storage amount becomes excessive (GBs), the data may either be archived or deleted or there may be a cost for storage.
Payment
The project development cost is $129, regardless of complexity unless the task has a very unique requirement (then custom pricing is used). The one-time extraction limit for new project is 50K records from 1 website. The first sample will be free – but to be able to download the data daily, there will be a $99 setup fee and $50 per month per project payable after viewing the sample data, regardless of the data amount extracted.
Scheduling
Scheduling is well organized, as shown below:

Summary
Unlike many other data hunting/scraping services, Grepsr provides usable tools to manage projects and scheduling. The service is user-friendly with prompt support. If you know nothing about programming and web scraping, but you need to get a data from the web, this service is for you. But if you are a programmer and know how to extract web data, you may use another web scraping solution to have more freedom with a lower cost.