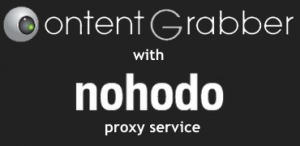 Professional data extraction requires adequate proxying to keep anonymity of scraping robots. When attempting to extract large data sets (over 1M records, ex. business directories) reliable and fast proxy service is needed.
Sequentum has released the Nohodo proxy service integration for Content Grabber. Nohodo provides a free account for Content Grabber users (up to 5000 requests monthly for free). The feature is available for both trial users and regular customers. Here's how it works…
Register free account at Nohodo
Upgrade your version of Content Grabber. You can do it from the 

Help

 

menu

Sign up to the Nohodo free proxy account. For this you log into the Content Grabber website and visit your 

Account

 page.

You'll be taken to a Nohodo's page. Scroll down to choose 

Free account

, then scroll further down to reach the form. Upon submitting the form, visit your mail box to get a 

sign up code

 (from a support mail), insert it into the same form and resubmit it to finally create Nohodo account.
Nohodo anonymization network
provides a special offer for webscraping.pro customers.
Configure Nohodo at Content Grabber
Then you will need to configure your Nohodo proxy service in Content Grabber (follow steps given there). After you've done that, you are ready to use Content Grabber with the Nohodo proxy network. This helps your agents to stay undetected even during high volume web requests such as to scraping YellowPages and other data aggregation sites.
Notes
The free account is limited to 5000 web requests per month (roughly 500 Mb), but you can also get paid packages to support larger traffic requirements.
The free Nohodo accounts only have access to US proxies.
Conclusion
The Content Grabber & Nohodo integration seems to be sound. It's a modern web scraping software combined with a reliable IP anonymity service. The Nohodo IP rotation network, which owns thousands of high performance proxies, should meet the IP anonymity demands of the professional web scraper.